This was organised purely to celebrate the end of summer and the recent nuptials of some good friends from the trade.
Sam Harris from Zucca Bermondsey treated us to his now legendary hospitality with some amazing food.  He sometimes uses these private dining room events (which holds 10 people) to experiment with new dishes and, as ever, we were utterly spoilt.  The use of nuts and pulses was fascinating, the pastas were as knee-weakening as ever and the grouse was to die for.  All courses we're finely prepared by the very talented sous-chef Simon.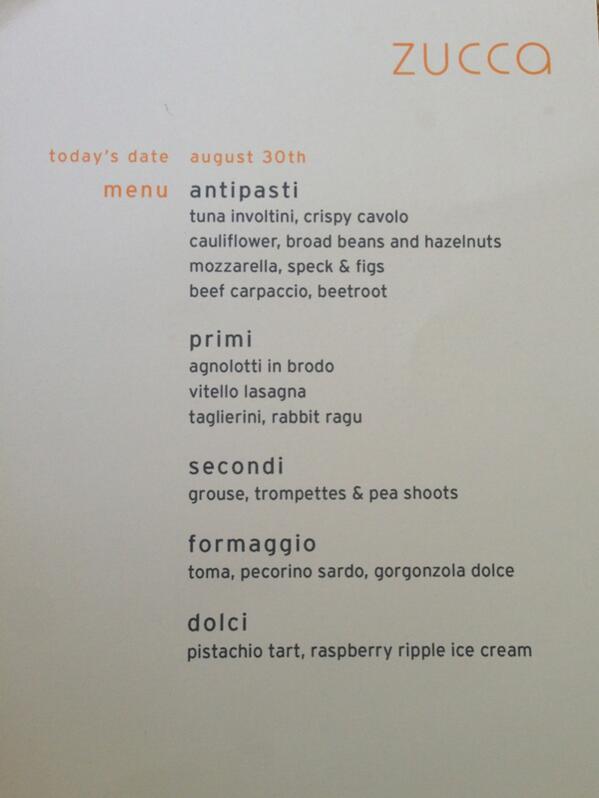 The wine selection is left to the guests and there is rarely a shortage of variety or quantity at these events.  Also great to see that all wines performed really well on the night.  Very rare to have no duds with this amount of wines from varying ages.
Perle 2006, Ferrari
Good solid house bubbly from Zucca-  A refreshing start to the evening.
Henriot 1998, Cuvee des Enchanteleurs
I haven't had many 98 bubblies but if this is anything to go I need to try more.  Lovely finesse and elegance with good fruit to balance.
Riesling Unendlich 2000, FX Pichler, MAG
Intense honeysuckle and greengages.  Viscous with a piercing acidity to balance.  Very good indeed.
Cervaro della Sala 2010, Castello della Sala MAG
Luscious, California-style Chardonnay.  I found the 2010 very stylish and balanced.  One can age this but lovely to drink now.
Corton-Charlemagne 1987, Bonneau du Martray
Impressive minerality and holding together well.  A testament to the age-ability of top white Burgundy.
Chambolle-Musigny 1976, Bouchard Pere&Fils
Another great surprise and still alive. Very soft, earthy fruit and clear sous-bois Pinot character.  To drink now but impressive for a village wine.
Chianti Classico Riserva Vigna del Sorbo 1997, Fontodi
Ripe, sweet, appealing fruit.  Very nicely made.  A top quality Chianti and good freshness for the vintage.
Tignanello 1993 Antinori MAG
I know a lot of people are not fans of Tignanello but I am.  It may not be the best value wine when buying older vintages as demand has heaped upward pressure on prices.  However, at release prices, this is solid, honest Super Tuscan that rarely disappoints.  The 1993 is drinking beautifully now with a soft, spicy fruit disposition.
Sassicaia 2000 Tenuta San Guido MAG
I often find 2000 Tuscans sweet and soft and flattering but rarely exciting.  Sassicaia is my favourite of the Super Tuscans and the 2000 was very charming with delicious ripe damson fruit but decent grip and length.
Barolo 1988, Bartolo Mascarello, MAG
Very good classic. elegant Bartolo from a decent vintage.  Old school mushroom/earth nose with a medium weight.  Not as good as the monumental 1989 but still excellent.
Barolo Riserva Voghera Brea 2000, Azelia
Another nice surprise.  Sweet, forward and velvety fruit.  Not my favourite style of Barolo but very pleasant wine indeed.
Barolo Villero 1982, Giacosa
Memory gets a bit hazy at this stage but I remember this wine being perfectly mature with scents of rosewater and Asian spice.  Medium bodied on the palate but nowhere near as good as the Falletto 1982 white or obviously the red labels.
Montevertine Riserva 1999 Montevertine
This is from one of my favourite properties from Tuscany and this wine was drinking perfectly.  Full of black cherries and minerals.
Barbaresco Gallina di Neive 1985, Giacosa
This was a tremendous bottle and arguably the wine of the night.  Very focussed and vibrant for its age.  Great grip and depth.  Stunning.
Bual Madeira 1969, Blandy
Stunning, love Madeira and worked very well with the pistachio tart and finished the evening perfectly.
Many thanks to all for the fabulous wines that everyone brought and of course to Sam and his team for a truly memorable evening.